Product Description
This bellhousing fits both of TDR's BBC and SBC engines as well as other engines that have a starter at the flywheel. Depending which engine you're mounting this on, you may have to make a thin plate to fit between the engine block and bellhousing.
This is equal to a 1:1 depth of 7.5" and accomodates up to 3 clutch plates.
Lenco transmissions by TDR or Futurattraction will fit on the face of the bellhousing.
It has the clutch inspection plate, lots of mounting holes and all the detail without provision for a starter.


Here is a photo of the real thing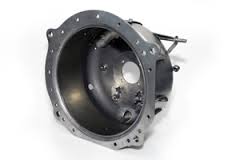 Made of Frosted Ultra Detail by TDR in 1/25 scale.
Product Videos
Custom Field
Product Reviews