Product Description
AS SEEN IN MODEL CARS MAGAZINE #117, May/June 2013
This is a flat-bottom drag boat modeled after the real National Champion. The manufacturer combined his boating and modeling backgrounds to make this drag racing boat hull. Since nobody made what he was looking for, he decided to make his own.
The result is a realistic Runner Bottom drag boat in 1/16 scale.
CONTAINS:
Two-piece white resin hull

Color-tinted windscreen

Photo etched Cole-Hondo dash emblem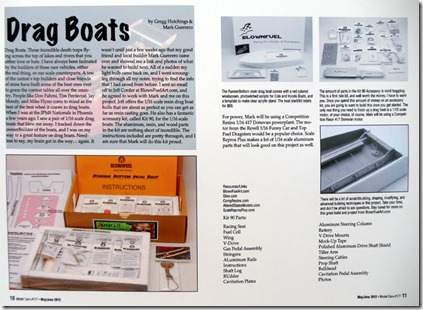 See also, the detail kit for this drag boat. The Kit-90 contains most everything needed to complete this boat (less engine, plumbing, or wiring). Click HERE to go to the Kit-90 page.
LOOK AT THE BLOWNFUEL Men's T-SHIRTS. HERE ARE THE Women's T-SHIRTS
Shipped by BlownFuel Art.
Product Videos
Custom Field
Product Reviews
The resin is very good. I found only two small holes. One area on both side of the hull (same spot) has a small patch of pinholes.

But over all a great casting.